The Rat Fan Club
---
Below are pictures of vaginal tumors in rat. WARNING: The pictures are pretty graphic.
Jasper has a very small vaginal tumor. At this point, it is easily mistaken for a vaginal prolapse, but differs from it in that it is solid and round where a vaginal prolapse looks like a tube.
<![if !vml]>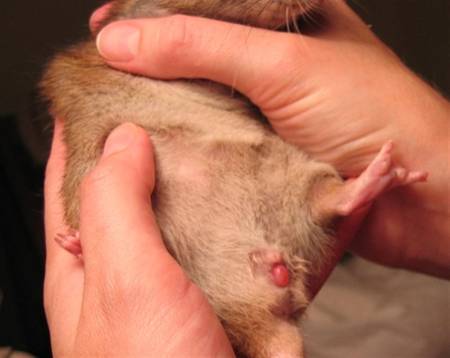 <![endif]>
Slick has a medium-sized vaginal tumor. Note that it differs quite a bit in appearance from a vaginal prolapse. The surface of the tumor is moist, which has caused pieces of bedding to stick to it.
<![if !vml]>
<![endif]>
---
Rat of the Week | News | Rat Info | Adopt a Rat
Reviews | Rat Books | Merchandise | Special Events
Meet the Ratlady | Links | Home
---
Rat Fan Club 857 Lindo Lane Chico, CA 95973 (530) 899-0605 ratlady@ratfanclub.org
---
Copyright 2017