Rat Fan Club Meeting Pictures
The November 3, 2001 Meeting


The weather was so nice we had our holiday party outside. Here we are in Claudia Mayer-Harnish's backyard in Davis, CA.
The January 13, 2001 Meeting
The Rat Fan Club had our first get-together at member Claudia Mayer-Harnish's house in Davis. We ate lunch at a Mexican restaurant and then went back to Claudia's house where we spent the afternoon talking about rats, met the rats various people brought, and learned how to sew rat hammocks from Linda Bradley. We had a great time and are looking forward to another meeting!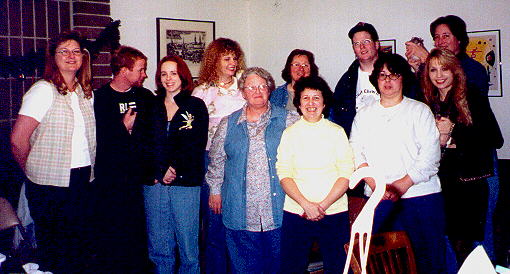 From left to right, Sue Pieratt, Eric & Kristi Miklusicak, Darla Miller, Barbara Henderson, Libba Cooperman, Debbie "The Rat Lady", Jason Henderson, Linda Bradley, Squash (the rat), Jenny Kling holding Mickey (hard to see), and Claudia Mayer-Harnish.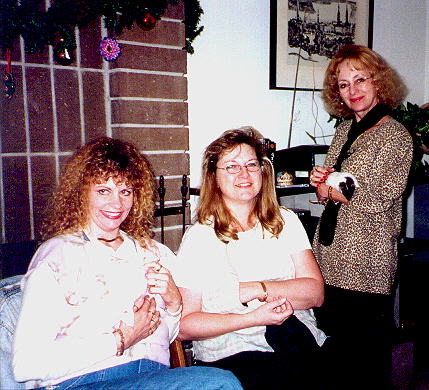 From left to right, Darla Miller, Sue Pieratt, and Lisa Kling, Jenny Kling's mom. Lisa is holding Mickey, Jenny's rat. It doesn't show well in the photo, but Darla is wearing a pouch shirt with her two albino rats poking their heads out.

It was Barbara Henderson's birthday, and Linda Bradley had given her this purple rat that says things when you squeeze him. Here I am laughing after the rat had said, "Trust me, I'm a rat!" (These photos are by Lisa and Jenny Kling. Thanks!)
---
Rat of the Week | Intro Issue | Join the Club! | Adopt a Rat
Rat Books | Helpful Info | the Rat-alog | Special Events
Meet the Ratlady | Links | Home | E-Mail

Rat Fan Club 857 Lindo Lane Chico, CA 95973 (530) 899-0605 ratlady@sunset.net

---
Copyright 1999